LEGAL ADVICE PROVIDED

LEXVOCATIS do its best efforts to grow up a complete legal offer in business law. Our legal advice and the legal defense directed towards companies, independent entrepreneur or individuals is centered to a strategic legal advice.
The legal company LEXVOCATIS bring customized legal solutions, fitting with your specific legal problems, with your activity. We adapt our legal solutions to your activity and to today's economy challenges.
LEXVOCATIS defend and advise its customers for registration, development, restructuring, transfer companies and use its legal know-how in order to advise the managers and individuals during the legal negotiation with partners, clients, services providers, suppliers.
The individual legal support is adapted to every case and covers the legal defence and advice in various legal expertise fields.
Professionalism, reactivity, direct approach and customer's interests defense are LEXVOCATIS philosophy.
Maître SEVERIN LE FOURN is lawyer in LEXVOCATIS. She practice his job with a strong passion for the law and the justice. She do its best in order to propose to its customers the right legal advice and defence  in his field of competence.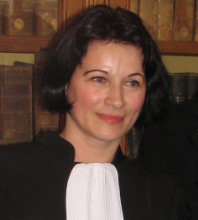 Maître SEVERIN LE FOURN finished all his law studies in "Paris1 Panthéon-Sorbonne" University. Before she successfully graduated abroad. She is graduated in M1 "Justice and Trial" and M1 " Business fiscal law" completed by an M2 "Business and Economic Law".
Maître SEVERIN LE FOURN passed the  Bar exam in Paris and obtained the CAPA before to establish the Law Office LEXVOCATIS. She practice presently in Paris Bar.
Maître SEVERIN LE FOURN speaks English, Spanish and Rumanian besides of French, which is a great advantage for the  customers working with the office.
His professional skills gained as in-house counsel for years and in different law offices, the knowledge in his field of law skills, the knowledge of the companies make his work easier and helps her to understand customers priorities.
Professionalism, rigor, sensivity and awareness to customers priorities characterize  Maître SEVERIN LE FOURN.
The legal firm do it's best in order to handle every file with profesionalism, respecting lawyer's profressional secrecy and all the other deontological rules.
LEXVOCATIS is particularly careful about the respect of individual liberties.
It's philosophy is to prevent litigations providing legal assistance and support. LEXVOCATIS never give up the fight of clients defense.
LEXVOCATIS also manage to develop its activity aboard. There is no doubt, multiculturalism is a richness and a force used every day in the business field.
The projects becomes most often reality and the legal support is essential at every moment of projects realization.  The legal firm LEXVOCATIS tries to be part of the international business development.
LEXVOCATIS is particularly interested in advising Franco-Rumanian investors or companies wishing to invest or develop their activity in France or Rumania.
LEXVOCATIS wants to be present and to advise different kind of customers, whether it is a small or a big company, whether it is a liberal profession.